Content Writing Certification
Learn how to write articles, blog posts, website content, press releases and content for media.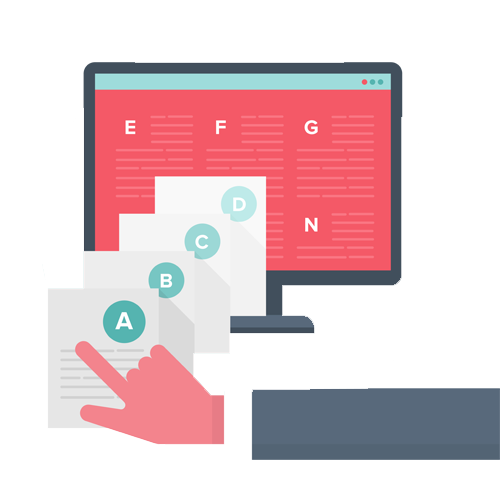 Content Writing Training
Content Writing Training is a rigorous course offered by Wisdompad, where you will be taught useful techniques and skills for writing unique and effective web content that will grab the reader's attention instantly. These lessons will cover almost everything, starting from understanding the visitors' point of view when reading a web page, to proficient writing techniques, and evaluating the results of your enhanced writing.
Who Can Do This Course?
Our course is appropriate for people who write or wish to write articles or blogs for internet, websites and social media networks. It is not business writing or copywriting course, but a complete course that explains how you can apply your skills and efficiency, to write fine web content.
This course is perfect for those, who are ready to try their hand in the field of online writing and looking forward to polish their skills and becoming more specialized writers.
Job Prospects of Content Writing Certification
Due to the increase in online business, content creation is the vital element of any web based product or service. Excellent online content writers are hard to find, and are always in demand. International brands and companies are constantly searching for people who are creative and have a flair for all types of writing. Apart from the marketing point of view, content creation is an art, which can earn you a hefty income. Through online profiles you can get projects of assignment writing, web writing and else and generate a good side income for yourself.
Our professional teachers will guide you about how to use this skill of writing and will help you polish it into something that you can use to become a professional!
Course Outline
Lesson 1: The Concept of Content Writing
Significance Of Content Marketing in the Online Market
How Search Engines Read Content Online
Job Prospects Of Content Writing Training
Different Types Of Content Writing
How to Prepare the Strategy of Content Marketing
Lesson 2: Techniques of Web Content Writing
Identifying Goals of your Website & Requirements of the Business
Writing for your Target Audience
Formatting Titles & Headlines
Optimizing Web Content for SEO (Keyword Placement, H1& H2, Hyperlinks, and Keyword Density etc.)
Too much or not enough information – finding the happy medium
General mistakes
Lesson 3: Techniques for Writing Articles & Blogs Content
Significance of Article writing
Technique of Article Writing, Tone, Style, and Language
Tips to Make Attractive & Easy to Read Content to increase Traffic
How to use Articles & Blogs to Promote business online
Lesson 4: Writing and Formatting Sales & Promotion Content
Types of Promotional Content
Newsletters
Landing pages
Product descriptions
Press Release
Creating Visually Appealing Pages & Balancing with Images
Page Layout & Text Outline & Call-To-Action Buttons
Tip for Effective Writing In Sales Tone
Lesson 5: Writing and Formatting Assignments
Types Of International Assignments
Formatting And Outline
How To Select & Create Referencing
 Lesson 6: Tools for Perfect Writing
Using Proof Reading software for 100% unique Content Creation
Language setting
Text Alignment
Join Now And Grab Thousands of Job Opportunities Online.
The Content Writing certification is customized according to the student's availability.
Wisdompad also offers courses online. For more information contact 021-34812361 – 68